SO APPARENTLY I'M BACK AGAIN, I HAVE THIS TRADITION OF GOING AWAY FOR A YEAR AT A TIME AFTER JUST LIKE A MONTH OF ACTIVITY. BY THAT FIGURE YOU HAVE ABOUT 2 WEEKS LEFT TO CATCH ME BEFORE I GO INTO HIBERNATION AGAIN WITH THE REST OF THE POLAR BEARS, BADGERS AND HEDGEPIGS!
I think one of the signs of getting older is being more apathetic about Christmas, I used to be friggen pissed off at the whole deal, FIRST WORLD MATERIALISM IS LAW AND BABIES CRY WHEN OTHERS GET MORE THAN THEM, only really OLD people celebrate Christmas
truly
for the sake of getting the whole family together, enough rant I should save it for complaints..
So my family got me everything I need in order to bake bread!

The bowl, 2 bread pans, the wheat, the yeast, all of it!

CAN YOU IMAGINE!? ME BAKING BREADS!!!

And also my lil' sis got me a set of fuckin'
minecraft fridge magnets
which I immediately had to assemble into something..
as if I needed more stuff to distract me from actually working on art >_<;;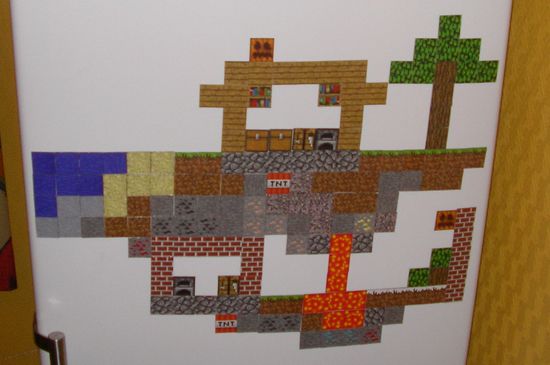 yeah I'm aware some of the pieces are upside down and sideways etc, who the hell cares!
ANYWAYS,
you'll notice this journal's header is in treacherous
cyan
and not glorious red, I had such bitch-ass hard times getting the css code to work with my highly limited understanding of the coding language. OBVIOUSLY I ARRIVED AT NO SOLUTION, if you OTHER people see the journal's title in all white letters please let me know, to me it looks blue, WHICH IT SHOULDN'T, and the cyan was about the only colour that made blue letters look okay, I'll really have to take a hard look at css sometimes..

Still 816 deviations to go through here, thank you very much everyone!

Don't be surprised if I fav or leave comments on some old stuff of yours..